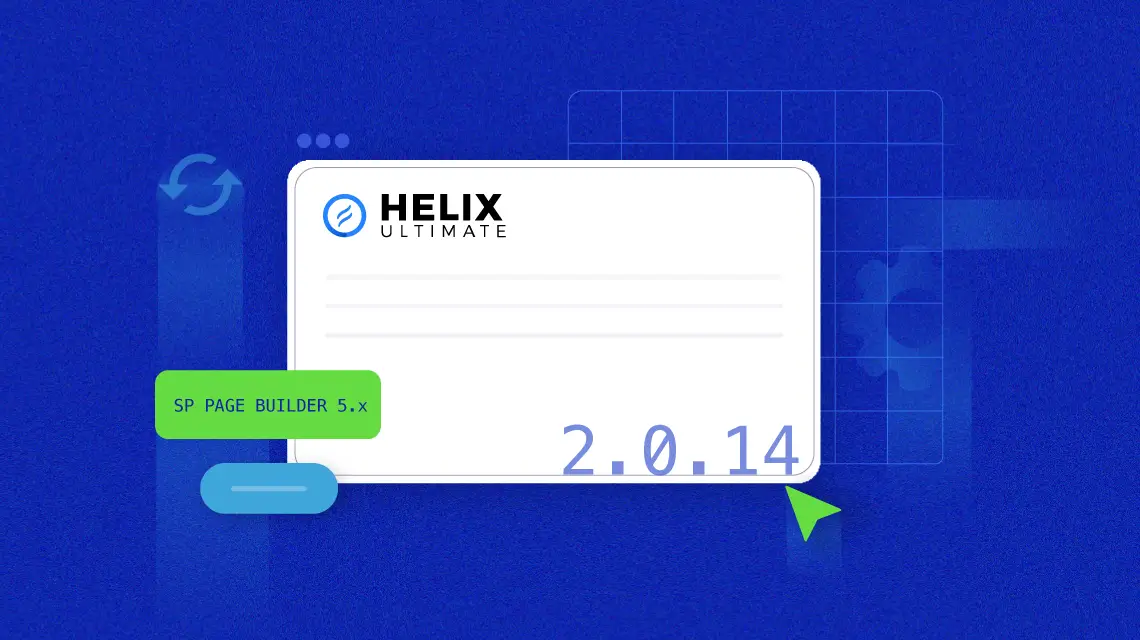 Helix Ultimate v2.0.14 Update: Here's What's New!
Hello, Joomlers! We're excited to present the latest update of Helix Ultimate, packed with both fixes
and noteworthy new features to refine your Joomla web-building journey. This release not only addresses some minor glitches but also ushers in compatibility with the much-awaited SP Page Builder 5.x Lite.
Highlights of the Update:
QuickStart Pack and SP Page Builder 5.x Lite Integration

With this release, Helix Ultimate's Quickstart pack is now integrated with the latest SP Page Builder 5.x Lite. It ensures users get the best of both worlds by leveraging SP Page Builder 5's advanced features while using Helix Ultimate.

Addressing Notable Glitches

Web Authentication Button Fix: In the previous versions, if you enabled web authentication via the admin dashboard, the Web Authentication button wouldn't appear in the Helix Ultimate's frontend login section. This glitch has now been rectified, allowing users to log in seamlessly.
Image Upload with Uppercase Extensions: A peculiar bug was identified where images with uppercase file extensions (.PNG, .JPG, .GIF, etc.) couldn't be uploaded in the Joomla Article's Blog Media section, impacting both Gallery and Standard options. This issue has now been addressed, ensuring smooth uploads regardless of file name casing.

Other Key Fixes and Updates Include:

Rectified a duplicated <li> problem linked to pagination list override.
Resolved the JS challenge during image uploads in the Media Gallery.
Alleviated the Frontend Web Authentication snag.
To get a comprehensive understanding of all the improvements in this release, we encourage users to consult the changelog.
Conclusion: With Helix Ultimate v2.0.14, your web-building experience is set to become smoother and more advanced. Ensure you update to this version to make the most of these new enhancements. We're eager to hear your feedback on these changes, so share your thoughts in the comments. Happy Joomla development, folks!