DiabloDesign is a one-person company specializing in the design of templates for the Joomla 4 platform. Our offer is aimed at people looking for professional and modern templates that will make it easy to create attractive websites based on this popular CMS. In our offer you will find a wide selection of free and paid templates, tailored to different industries and needs. All our templates are clear and intuitive to use and have carefully tested and checked code, which guarantees stability and speed of operation.
As a one-person team, I am committed to creating aesthetic and modern templates for Joomla 4 with passion and dedication. I believe that good design is the key to a successful website, and I strive to create templates that are visually appealing, user-friendly, and efficient.
If you are looking for free templates for your Joomla 3 based website, we invite you to check out our offer. We are sure you will find something for yourself. Whether you are a small business owner, a blogger, or just someone looking to create a personal website, DiabloDesign has something for you.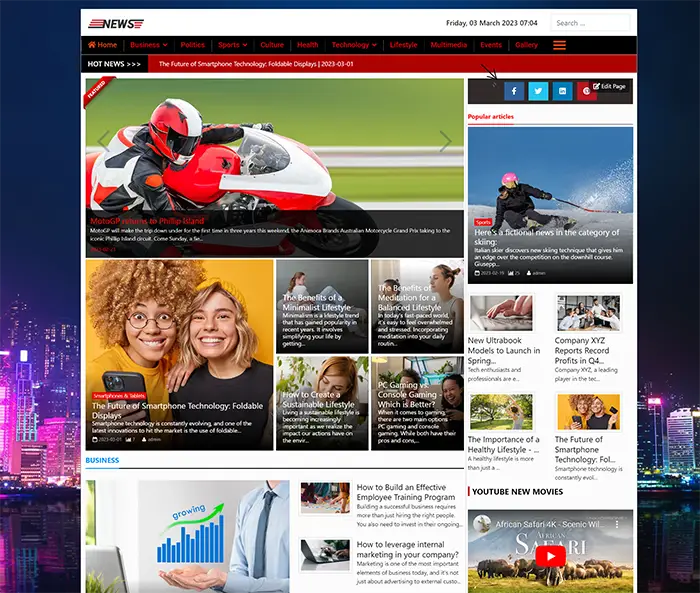 | | |
| --- | --- |
| UPDATED ON :   | 13-03-2023 |
| VERSION:  | 1.1 |
| JOOMLA: | 4.2.8 |
| PHP :  | 8.1.18 |
If you're looking for a powerful and flexible template for your news portal or online magazine, look no further than HotNews. Developed by Diablodesign, this Joomla 4 template is built on the Helix Ultimate framework and includes the SP Page Builder, making it the perfect choice for creating a dynamic and engaging website.
With its modern and sleek design, HotNews offers a clean and intuitive user interface that is easy to navigate. The template is fully customizable, allowing you to tweak every aspect of your site to your liking, from the color scheme to custom fonts and logos. SP Page Builder makes it easy to create custom pages and layouts without the need for coding.
HotNews is optimized for performance, ensuring that your website loads quickly and efficiently. The template is fully responsive, meaning it will adapt to any screen size, from mobile devices to large desktop displays. This makes it easy for your readers to access your content, no matter where they are or what device they're using.
With its range of pre-built pages designed to showcase your content in the most effective way possible, HotNews is an excellent choice for anyone looking to create a powerful and engaging news portal or online magazine. So, if you want to create a standout website, try HotNews today.