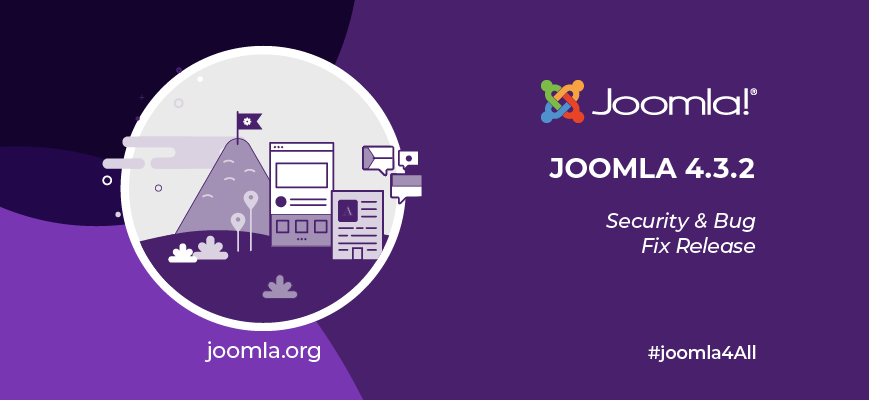 A Deeper Dive Into Joomla 4.3.2: New Features, Security Fixes, and Bug Improvements
Joomla has always been at the forefront of open-source web platforms, and the release of Joomla 4.3.2 continues this tradition. This recent update upholds Joomla's commitment to creating an accessible web design that's both simple and secure.
The Joomla 4.3.2 update enhances security measures and fixes various bugs identified in the 4.x series, allowing users to benefit from a more streamlined and safe platform.
Security Improvements in Joomla 4.3.2
Joomla 4.3.2 focuses heavily on tightening security, addressing several issues identified in previous versions (4.2.0 - 4.3.1). The update tackles an Open Redirect and XSS vulnerability within the mfa selection ([20230501] Low Severity - Low Impact - Low Probability) and implements a bruteforce prevention within the mfa screen ([20230502] Moderate Severity - Critical Impact - Low Probability). These changes indicate Joomla's continuous dedication to security and user safety.
Bug Fixes and Enhancements in Joomla 4.3.2
Aside from security upgrades, Joomla 4.3.2 also introduces an array of bug fixes and improvements. These address various user feedback and issues encountered during the update process.
The update improves overall accessibility by tweaking how table headers appear in tables when 'show headings' is set to 'no.' Joomla 4.3.2 also pays attention to minor, but crucial, elements such as ensuring aria-label gets translated in com_banners, and fixing a bug that previously hindered batch copying of banners and contacts.
Content component validation is now stricter for positive integers, while the TinyMCE editor receives two enhancements. The first prevents white text on a white background during preview, and the second ensures the language of parts doesn't fail if subform fields are empty.
Other key improvements include:
Better rendering of Contact custom fields and correct PHP warning when preparing Text fields.
Optimized Media Manager messages and console warnings removal.
Fixes for template parameter issues and removal of PHP 8.1 warnings.
Improved user experience through JavaScript error fix on login page and removal of login message on frontend.
The complete list of improvements and fixes is available on Joomla's GitHub page, providing a more comprehensive view of all the enhancements made with Joomla 4.3.2.
In conclusion, Joomla's latest update embodies its core values of inclusiveness, simplicity, and security. The 4.3.2 release demonstrates a strong commitment to user experience, accessibility, and platform security, making Joomla an even more robust and reliable open-source web platform. It also reiterates Joomla's proactive approach in addressing user feedback and continually refining its platform.