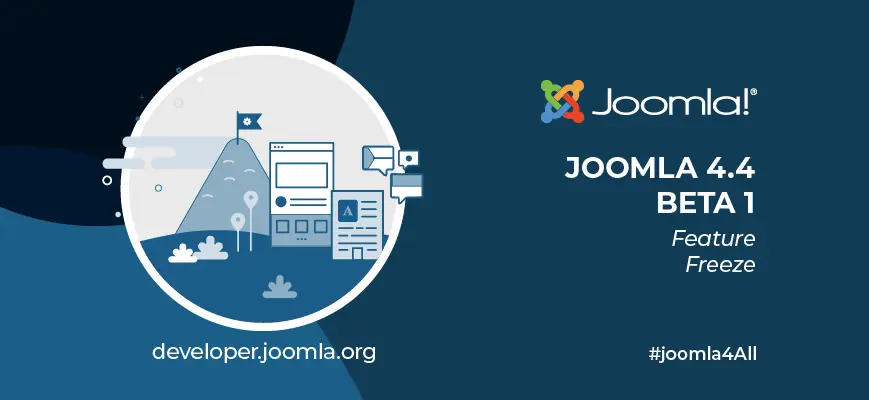 Exciting News: Joomla 4.4 Beta 1 is Here for Testing!
The Joomla Project is thrilled to announce the release of Joomla 4.4 Beta 1. This marks the final minor release in the 4.x series and brings with it some exciting new features and improvements. Let's take a closer look at what this release means for both developers and users.
What Is Joomla 4.4 Beta 1 For?
Goals of the Beta Releases
Extension Testing: This release provides a solid foundation for developers to test their extensions and report any issues well before the final launch.
Feature Discovery: Joomla 4.4 Beta 1 allows users to explore the new additions to the platform, enhancing their overall Joomla experience.
Note: For details on backward compatibility issues, please check the documentation site.
What Is This Release NOT For?
This release is an alpha version and is not suitable for production sites. It's intended solely for testing purposes.
Where Can You Download Joomla 4.4 Beta 1?
You can download the beta version here. Alternatively, for the most up-to-date build, use the nightly build packages. Newcomers can start a free Joomla 4 website for testing at launch.joomla.org.
When Is the Final Release Due?
The general availability of Joomla 4.4 is slated for 17th October 2023. Here are some key milestones:
Alpha Releases: Feature additions and major changes (All stages completed)
Beta Releases: Feature freeze with minor changes (Beta 1 released)
Release Candidates: Final testing and bug fixes
Note: These dates are subject to change, largely depending on volunteer availability and other unforeseen circumstances.
What's New in Joomla 4.4?
Updated to Bootstrap 5.3: This makes the CMS more modern and user-friendly.
EOS Plugin: A new plugin will inform users about the end of the Joomla 4.x series.
Architecture Overhaul: All plugins have been adapted to the new Joomla 4 architecture.
Automated Testing: Improved coverage ensures stability during development.
Future Plans for Joomla 4.4
Several projects could become part of Joomla 4.4 if they are release-ready by the Beta stage, including:
Modules: Conversion to the new Joomla 4 architecture is still underway.
Automated Tests: More unit and system tests are planned.
To learn more, please read the development strategy article.
How Can You Contribute?
To ensure that this release is production-ready, your help in testing and reporting bugs is invaluable. Especially for extension developers, this is a golden opportunity to test your products and share your experience.
Joomla 4 Documentation
You can find tutorials and guides about Joomla 4 at Joomla Documentation. We encourage the community to contribute to these valuable resources.
Should You Plan to Upgrade?
Absolutely, Joomla 4.x is the latest major version, and migration to the latest version should be in your plans. Resources for migration are available on the documentation site.
Related Information
Joomla Feature Tracker
Developer Mailing List
Joomla Developer Network
For the latest news affecting custom development, make sure to subscribe to the general developer mailing list.
With Joomla 4.4 Beta 1, the future of Joomla looks promising. Your participation can make a difference in making this release the best it can be.