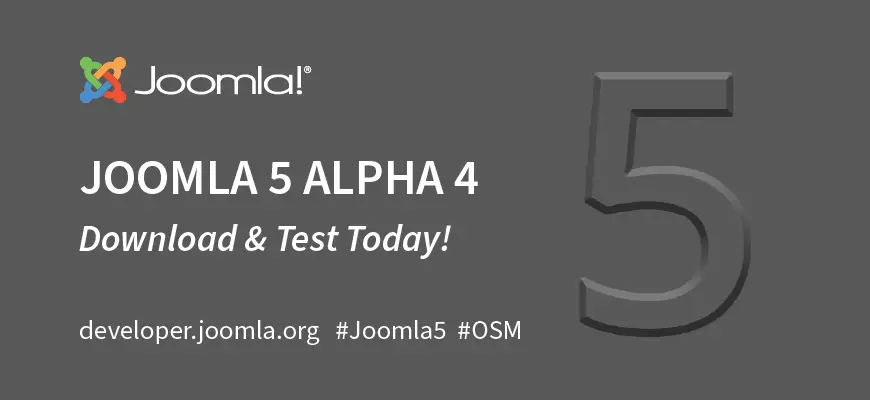 Joomla 5.0 Alpha 4: An Exciting Step Towards the Future of Joomla!
The Joomla Project has reached yet another milestone. They've proudly announced the rollout of Joomla 5.0 Alpha 4, marking a progressive phase in Joomla's journey. Here's everything you need to know.
What Does This Release Mean?
This latest release serves two primary objectives:
Offering developers a foundation to test their extensions. It aids in identifying and addressing any complications well in advance of the final release.
Granting users the chance to explore and acquaint themselves with the fresh features that Joomla 5.0 brings to the table.
However, it's crucial to note that this version is not designed for live websites. Its purpose is purely for testing.
Download and Release Schedule
Joomla enthusiasts can download Joomla 5.0.0 Alpha 4. If you're keen on always having the freshest build of Joomla 5, the nightly build packages, updated daily, are your best bet.
The climax of this journey, Joomla! 5.0's general availability, is slated for release around 17th October 2023. Here's a brief glimpse into the roadmap:
Alpha Releases: These are versions where new features and significant changes get incorporated.
Beta Releases: The feature list gets frozen at this stage, but minor modifications can be executed.
Release Candidates: Here, the focus is on testing and fixing bugs, solidifying the product for its grand launch.
Yet, it's essential to understand that these dates could vary based on the availability of volunteers and other unforeseen factors.
Joomla 5.0 Alpha 4: What's New?
Joomla 5.0 Alpha 4 boasts of:
Enhanced stabilization.
Indexed Contact Images in Smart Search.
Conversion from simple events to event classes.
A revamped Joomla modal dialog.
CodeMirror reintroduced in tinymce.
Deprecation adjustments for php 8.2.
Significant improvements in the Schema.org implementation.
Future Plans for Joomla 5.0
The Joomla team is fervently working towards making Joomla 5.0 the best version yet. With this release, Joomla plans to lay down a robust foundation, setting the stage for the platform's future. This includes adopting PHP 8.1, MySQL 8.0.13+, Bootstrap 5.3, Codemirror 6, and numerous other enhancements and projects.
Your Role in Joomla's Growth
The success of Joomla 5.0 is a collective effort. To guarantee its seamless functionality, Joomla needs your assistance in testing and identifying potential issues. This is particularly pertinent to extension developers. They are encouraged to actively engage in testing their extensions with Joomla 5.0.
For an in-depth understanding and tutorials on Joomla 5.0, consider diving into the Joomla Documentation.
Stay Informed
Extension developers should also join the developer mailing list. This platform will provide pivotal information and developments that could influence custom development.
In wrapping up, the path to Joomla 5.0 is clear and progressive. The anticipation for its final release is tangible, and the community's active participation will only solidify its success.