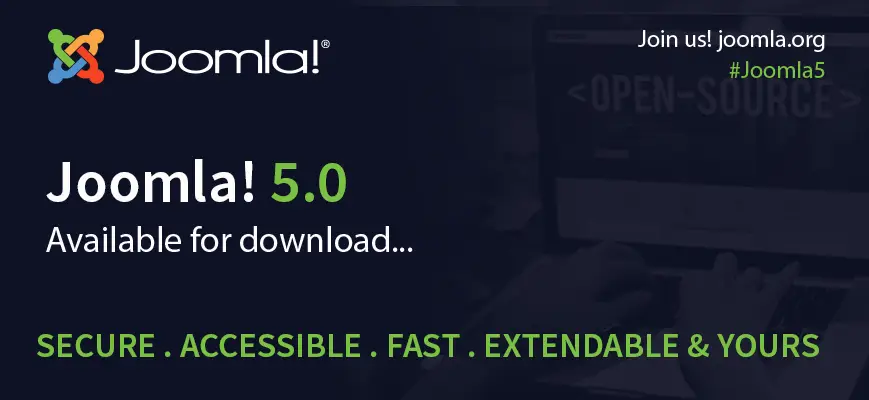 Introducing Joomla 5.0: A Major Leap Forward in CMS Technology
Today marks a monumental milestone for the Joomla! Project. After two years of relentless effort by our dedicated team of volunteers, we are thrilled to announce the launch of Joomla 5.0
, alongside Joomla 4.4. This new major version is packed with exciting new features, enhanced security, and significant code improvements. But that's not all—Joomla 5.0 is designed to grow with you and your business.
One of the most significant changes in Joomla 5.0 is the upgrade process. Unlike previous versions, transitioning from Joomla 4.4.x to 5.x is not considered a migration but an upgrade. This major shift underlines our commitment to ease-of-use and customer satisfaction.
What's New in Joomla 5.0?
Dark Mode in Administrator: A more refined dark mode for both users and admins.
Web Assets and Caching: Enhanced web asset caching for speedier load times.
Schema.org Integration: Automatic activation to improve search engine optimisation.
Code Optimisation: Speed improvements via automatic source code optimization.
Enhanced Security: Migration of events to their classes and removal of outdated Recaptcha plugins.
Extensions & Compatibility: Joomla 5.0 introduces Fontawesome 6.4, Codemirror 6, and requires PHP 8.2, MySQL 8.0.13+, MariaDB 10.4+, and PostgreSQL 12+ for optimal performance.
For a detailed guide on how to upgrade your site to Joomla 5.0, check out our step-by-step guide here: Joomla 4.4.x to 5.x Planning and Upgrade Step by Step.
Don't miss out on the advantages Joomla 5.0 has to offer. Download it today and take your website to the next level!